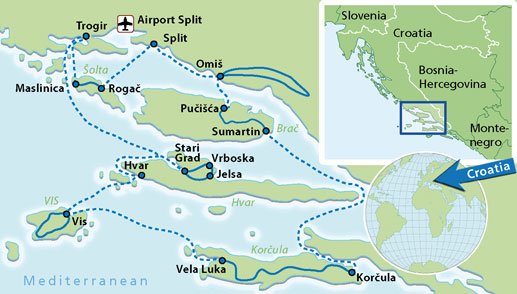 On our e-bike cruise South Dalmatia Tour we will show you the amazing beauty of the South Dalmatian coastline and islands in the company of our deluxe ship, the majestic Princeza Diana or of our new first class ship, the luxurious Melody. The highlights of the tour, such as the Diocletian Palace in Split, the Golden Horn of Brač, the picturesque old town of Korčula and the lavender island of Hvar along with many other scenic islands make this journey an unforgettable experience. Culture is not swept aside by our amazing bike rides!
For more and updated info visit www.islandhopping.com

1st Day (Sat) Trogir (Embarkation) – Hvar Island
Individual arrival by car to Trogir or by plane to Split airport, which is about 3mi./ 5 km away from the harbor of Trogir. After check in on the motor yacht between 2 and 2:30 pm the first cruise starts about 3 pm from Trogir to Hvar Island. Stari Grad is the second largest settlement on the Island of Hvar and well known for its important harbour. Overnight stay in Stari Grad.
2nd Day (Sun) Islands of Hvar and Vis (aprx. 16 mi./25 km)
Today's cycle tour leads us along the almost traffic free pass road through nicely set small villages. Afterwards we return for lunch to Stari Grad and cruise to the islands capital. We visit the magnificent Renaissance Square of Hvar town and enjoy the view up to the Spanish Fortress situated high above the city. We hop on board again and cross over to Vis Island at about 4 pm. Overnight stay on Vis.
3rd Day (Mon) Vis Island (aprx. 20 mi./32 km)
Vis is the furthermost island from mainland Croatia. A Greek colony called Issa has been on the island 2,300 years ago. Due to its strategic location it was a military zone until 1995 and prohibited for foreign tourists. Today we have the opportunity to explore the lovely island by bicycle. After cycling the boat takes us to the Island of Korčula. Overnight stay in Vela Luka.
4th Day (Tue) Island Korčula (aprx. 37.5 mi./60 km)
Today we discover the island of Korčula by bicycle and enjoy our lunch break in one of the local restaurants. The calmness and remoteness of the vast vegetation and cypress gardens have given the shape to the probably most beautiful Dalmatian island. Our cycle tour leads us via the village of Blato, like Rome build on seven hills, along a pass road across Pupnat bay and finally to Korčula town, where we have time to take a walk through the wonderful old town with its narrow "fishbone like" alleys. We stay overnight in Korčula town. (Good to know: Pictured graphic leads in opposite direction.)
5th Day (Wed) Island Brač (aprx. 17 mi./27 km)
Today we cruise to the island of Brač, which is famous for its radiant marble that was, among others, used for the White House in Washington or the Reichstag building in Berlin. After an extended swim break followed by lunch, we start our cycling trip in Sumartin, leading us to Selca and on to the picturesque harbour town Pučišća. The picturesque harbor is home to one of the most famous masonry schools in Croatia. The creations of the students decorate the harbor village. Overnight stay Pučišća.
6th Day (Thu) Omiš – Split (aprx. 16 or 27 mi./25 or 44 km)
Short crossing to Omiš . We cycle from Omiš through the valley of the Cetina River which is surrounded by steep rocks. After 11 mi./18 km we have the choice either to participate on a four hours rafting tour on the Cetina River (not included in the tour price) and afterwards a small cycle tour of about 5 mi./8 km back to the boat – or to expand the cycling tour (no rafting) to 27 mi./44 km along small side roads and versatile landscapes until reaching Omiš and its pirate castles. In the afternoon our ship takes us to Split. The old town of Split, built adjoining the famous palace of the Roman Caesar Diocletian, is a world heritage site. Overnight stay in Split.
7th day (Fri) Šolta Island – Trogir (aprx. 12.5 mi./20 km)
After crossing over to Rogač on the island of Šolta we commence our last cycle tour. Walled fields, numerous olive groves, locust bean and fig trees line the roads. The herbal smell of rosemary accompanies us along our tour through this island. Our boat awaits us in Rogač and we enjoy our last crossing back to Trogir where, if time permits, we can take a tour of the old town which is a world heritage site. The last evening aboard our ship follows a nice tradition. While enjoying the communal dinner in a cosy atmosphere you will have the chance for a last get-together with your crew and your tour guides.
8th day (Sat) Trogir (Disembarkation)
After breakfast disembarkation until 9 am and individual trip home or extended stay in Croatia. Would you like to see more of Croatia than Dalmatia? Then we recommend our extension program at Plitvice Lakes in combination with Zagreb (please see extended stay).
Basic tour price per person (in a double cabin below deck)
First Class Ship Princeza Diana or Melody
– from 1.490 euro (SEASON A: from 20.04. to 18.05.19 // from 05.10. to 26.10.2019)
– from 1.590 euro (SEASON B: from 18.05. to 05.10.2019)
Included services
• 8-day trip on a motorized yacht with crew
• 7 nights in a double cabin below deck with shower/toilet
• 4 x full board and 3 x half board
• Guided cycling tours as described in the itinerary
• Overview-maps for the daily tours (on board)
• Plus-tour specials
• Bed linen and towels
• English speaking tour guide
Additional optional services (on request)
• ½ a double cabin
• Surcharge per person for a cabin above deck: 200 euro
• Surcharge for a single cabin below deck: 500 euro (limited)
• Surcharge for a single cabin above deck: 800 euro (limited)
• Rental bike with Ortlieb pannier: e-bike: 160 euro/week; hybrid bicycle: 80 euro/week
• Insurance against theft and damage of the rental bike: e-bike: 20 euro/week; hybrid bicycle: 10 euro/week (not insured: grossly negligent damages)
• A safe parking space: motorcycle: 30 euro/week; car up to 6 m in length: 50 euro/week, vehicle longer than 6 m: 100 euro/week (on request, to be paid on-site to the tour guide)
• Customized transfers between Split airport and Trogir harbour: 15 euro per person/way (day of embarkation/disembarkation only)
• 3-day extension module Plitvice Lakes and Zagreb (only as POST-Islandhopping tour bookable) incl. transfer boat in Trogir – Plitvice Lakes // Plitvice Lakes – hotel in Zagreb // hotel in Zagreb airport Zagreb ; 2 nights in a 3 or 4 star hotel; entry fee Plitvice lakes National Park, guided sightseeing tour in Zagreb (entry fees for sights not included), dinner in a local restaurant; price per person: 3 star hotel in a double room: 750 euro/single room: 850 euro; 4 star hotel in a double room: 790 euro/single room: 890 euro (People driving independently, without the need of a transfer, receive a discount of 380 € off all prices mentioned)
• Additional night (B&B) near/in Trogir
Not included in the tour price
• Journey to Trogir
• Taxi transfer from the airport of Split to the ship in Trogir (one way ca. 20 euro)
• Flat rate for bottled water, Visitor's tax and local charges 40 euro for adults or 20 euro for children up to age 16 (to be paid to the captain)
• Beverages on board (tally sheet; to be paid to the captain)
• Meals and beverages ashore
• Entrance fee for sights are not included in the tour price
• Jeep tour on the Vis Island (due on site)
• Tips for tour crew and guides