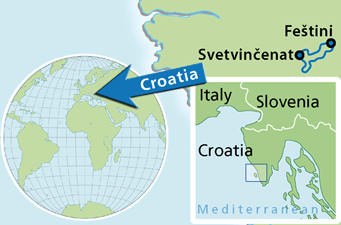 Explore eastern Istria with this family, single day bike tour from Rabac to the Kingdom of Feštini Cave.

The day will begin with a short transfer from the bike center in Rabac to the village of Feštini, which will be the starting point of our bike tour. A smooth bike ride through diverse countryside and beautiful forest awaits you. After the bike tour, there will be a chance to explore the Kingdom of Feštini Cave and to let yourself be enchanted by the easily recognizable shapes of the Magician's Hat, the Tower of Babel, and the enormous Bat's Wings. The cave is easily accessible to everyone. In addition to the underground wonders, you can also enjoy the idyllic scenery of the surroundings and other attractions (mini-farm, mini-bar with refreshments, etc.).
This tour is offered every Friday from April to October. Duration of the bike tour is approx. 5 hours.
The day will begin at 08:30 am at the Bike Center Rabac where we will meet to start our biking adventure. After a short transfer, we'll reach the small village of Feštini and from here; start to cycle! The route leads along small, undulating gravel paths and through beautiful forest where we can enjoy nature at its best; without traffic. After a while, we will reach the famous medieval town of Svetivinčenat. Here we will take a break and have the opportunity to go on a guided walking tour through the picturesque old town.

Continuing on, we will cycle for another 10 km on minor roads and through remote villages where we will be able to catch a glimpse of countryside life in Istria. Finally, we will return to the village of Feštini and explore the popular cave Feštini, a natural wonder with its amazing, geological formations. As the temperature inside of the cave is constantly around 13 – 15°C, please do not forget to bring a jacket!

In total, this round bike trip is 20 km long with 200 meters of elevation. Estimated time of arrival back in Rabac is around 1:30pm.

Timetable and departing point for transfer in Rabac:
08:30 from Bike Center Rabac

This tour is offered every Friday from April to October. Duration of the bike tour is approx. 5 hours.
Price of 46 EURO/ per person includes: 
* collective transfer from Bike Station Rabac and back
* tour guide 
* entrance to the cave in Feštini
* 0,5L water & energy bar
(children up to 13 years pay 33 EURO/ per person)
Price doesn't include: 
* bike rental
* lunch
* drinks
Minimum number of persons: 3
Please bring the following:
* Money for lunch & drinks
* Medicine if you are allergic or asthmatic
* If desired, your personal bike saddle (it will be fitted to your rental bike by our guides)
* If necessary, a jersey or a T-shirt to change as well as a wind or rain jacket
Good to know
* This tour is a moderate bike ride with some climbs and descents. A basic fitness level as well as the safe control of a bike are therefore presupposed.