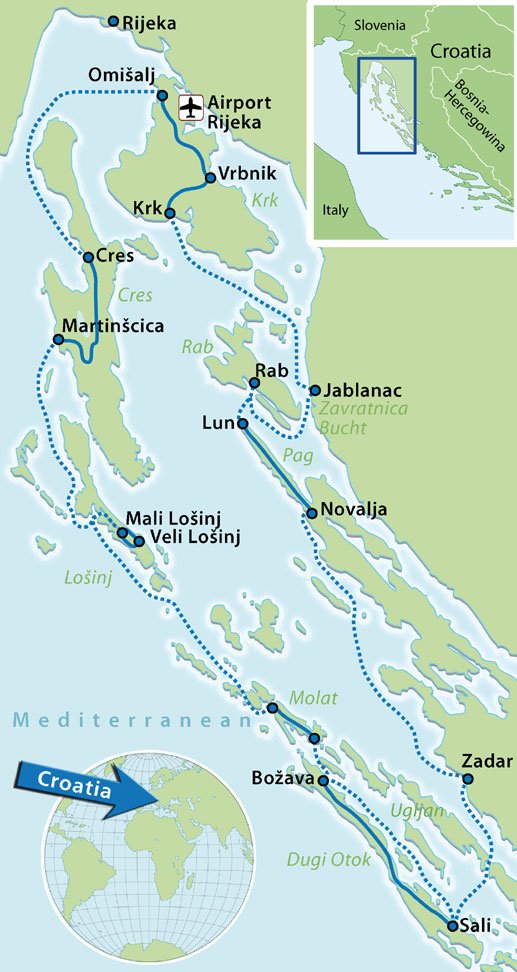 E-Bike & Boat Kvarner Bay Plus
(8 Days/7 Nights, approx. 119 mi/190 km )
This boat & bike cruise matches activity with comfort. Your comfortable home during this amazing week will be our proud motor yacht Anđela Lora. Carefully decorated roomy cabins, bathrooms with separate a shower, a comfortable sundeck as well as a stylish salon are all waiting to accommodate you.
Guarded by the towering Velebit mountain range in the east and embraced by the Istria Peninsula in the northwest lie the Kvarner bay islands. Discover quiet coves of crystal clear water that surround the unforgettable landscapes of the Kvaner bay islands; green hills and rocky moon landscapes give way to small harbor towns rich with history and culture. Explore the charm of the Adriatic Sea by bike and boat!
Each day begins with a well-rounded breakfast, leaving you fit to revel in the unique diversity the Kvarner bay islands offer on a guided bike tour. Be it the medieval city of Rab, the car-free road surrounded by blue sea on Dugi Otok or the contemplative life of the dwellers on the flower island of Molat, each day brings with it new discoveries.
During the evenings, you can relax and explore winding alleyways, typical for the Mediterranean, where you can find a great range of bars and cafés, waiting for you to sit and soak in the last of the sun's rays.
For more and updated info please visit www.inselhuepfen.com/en/kvp