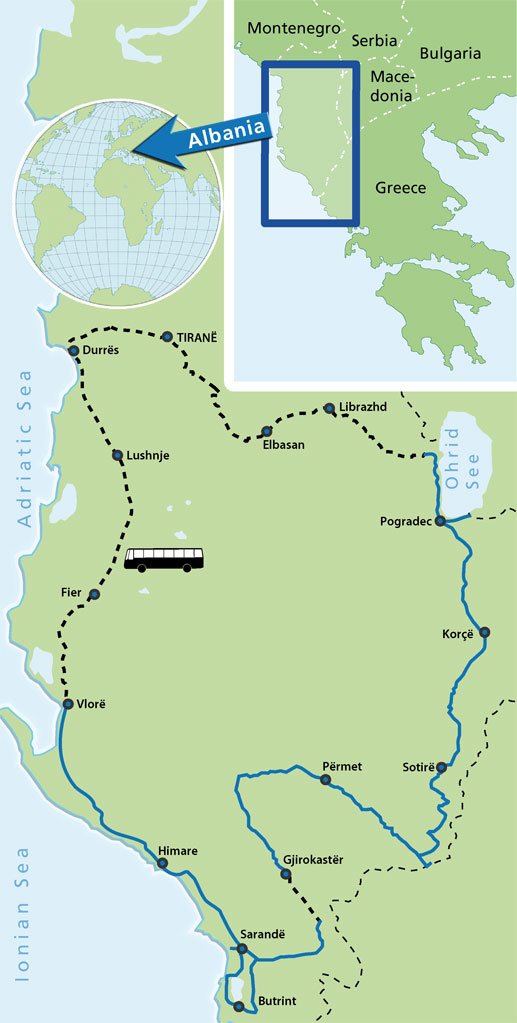 Hotel & Bike Tour Albania with luggage transfer (guided or self-guided)
(10 days/9 nights, approx. 294 mi./470 km by bike; level 3)
Albania (Shqipëria) is rising as one of Europe's hottest and least expensive destinations. Offering unspoiled beaches, snowcapped mountains, traditional cuisine, Cold War era artefacts, unique traditions, unrivalled hospitality and wild countryside, it's more than ready for becoming a flourishing destination on the tourist market.
There are also some that say visiting Albania is as close as you'll get to traveling back in time.
This tour includes also the 3 UNESCO world heritage sites of Butrint, Korçë and Gjirokastёr.
For more and updated info please visit www.inselhuepfen.com/en/alb
---
1st Day Tirana (Arrival)
Individual arrival at Tirana. Depending on your timetable arriving to Tirana you can enjoy a walk by yourself to Tirana until you meet the Guide and the group at the Hotel at 6 pm for the Tour Briefing. After the tour briefing we will join the Welcome Dinner.
2nd Day Qafë Thanë to Tushemisht (Pogradec) (aprx. 25 mi./40 km)
Morning transfer (distance: 69 mi./110 km/1.5 – 2 h) to the Albanian-Macedonian border. Start cycling along the lake, stopping for lunch at one of the many restaurants at the shore of the lake. After lunch continue through Pogradec to Tushemisht, near the other Albanian-Macedonian border on the south-east corner of the lake. After checking in the hotel we will ride to St. Naum in Macedonia to visit the beautiful Monastery. Don't forget you passport.
3rd Day Tushemisht (Pogradec) to Korçë (aprx. 32 mi/51 km)
A climb out from the lake into another high plateau bounded by mountains. Continue following the gorge for a while until the hills open up leading into a vast plain, a patchwork of individual farms and colours. An early arrival in Korçë allows you to go for a cultural tour around the city known as the Paris of Albania.
4th Day Korçë to Sotire (aprx. 45 mi/72 km)
We start cycling leaving behind the agricultural plateau of Korçë climbing steadily into the border mountains through a landscape of barren rock interspersed with wild flowers. Numerous cols and valleys lie ahead, climbing into the heart of the Gramoz Mountains and over the Barmash Pass(1,159m) to Sotire lying in its own tranquil valley.
5th Day Sotire to Benje (Përmet) (aprx. 32.5 mi/52 km)
A climb out from Sotire to a high grassy plateau surrounded by soaring peaks before reaching the source of the River Vjosa and descending through its spectacular gorge to Leskovik. Descending to Çarshove and then following the corniche route high above the river to Benje situated on a bluff above the river. After lunch and checking in the guesthouse we will take a short ride to the thermal springs for a swim at the end of the Langarica canyons.
6th Day Benje to Gjirokastёr (aprx. 44 mi/70 km)
Continue along the valley towards Kelcyra the distant shark's tooth peaks, which guards a further gorge. Ride between them to the confluence of the Drinos river following yet another gorge. This opens out into a wide plain with the town of Gjirokastёr (city of 1,000 steps) high above on your right side.
7th Day Gjirokastёr to Sarandё (via Butrint) (aprx. 44 mi/70 km)
After a fast 16 mi. (25 km) morning transfer we will start riding toward Sarandё, which lies along the Ionian coast, sandwiched between the high mountains and the sea and close to the ancient remains of Butrint. As an UNESCO World Heritage Site, Butrint is one of the county's most important archaeological sites, tracing its origins back to the Greeks and the Romans.
8th Day Sarandё to Himarё (aprx. 33 mi/53 km)
A roller coaster of a ride, leaving as the mist is burnt off by the sun, climbing steeply out of Sarandё to a rocky plateau. Then it's over cols into bays and around headlands, always with the stunning mountain scenery to the right and sea to the left before descending to the long beach and the bay of Himarë.
9th Day Himarё to Vlorё (aprx. 41 mi/65 km)
Today's route is as challenging as it is spectacular. Cycling up to the Llogara pass 1,000 m above the blue water of the Ionian Sea and its National Park, home to black pine, Eurasian otter and golden eagles. The park is a scenic expanse of protected woodland that encompasses the forests on the northern side of the Llogara Pass. After lunch we cycle downhill all the way to Vlorё.
10th Day Departure (transfer time aprx. 3 hrs)
Farewell! Morning transfer from Vlorё to Tirana Int. Airport. Please keep in mind, that a transfer to Tirana airport needs aprx. 3 hours. We recommend to book a return flight that leaves after 1 pm.
Self-guided tour
Dates & Prices (per person in a double room)
– from 850 euro

This tour is offered from April to June and September to October and can be started on each day of the week.
Minimum number of participants: 2 people.
Included services (self-guided tour)
– 9 nights hotel accommodation
– 9 x breakfast
– 30-speed rental bicycle (Giant) with waterproof panniers
– Transfers as described in the itinerary
– Luggage service from hotel to hotel
– Emergency phone
Additional optional services (self-guided tour) (on request)
– Single occupancy supplement: 135 euro/tour (equal to 15 euro/night)
– Transfer Tirana Airport – Tirana Town: 1 – 3 passengers 30 euro / 4 – 7 passengers 50 euro 
– Additional night in Tirana: Hotel Austria: Double room 35 euro per person/night (Surcharge single room 25 euro/night)
– Rental e-bike: 160 euro/trip
Not included in the tour price (self-guided tour)
– Journey to Albania
– Drinks with meals
– Entrance fee for sights
– Lunch/Dinner
– Tip for driver and tour guide
If you would like to book the self-guided tour please send an email to our office team with your prefered starting date: info@islandhopping.com
Guided tour
Dates & Prices (per person in a double room)
– 980 euro
Included services (guided tour)
– 9 nights hotel accommodation
– 9 x breakfast, 8 x lunch & 9 x dinner
– Professional English speaking tour guide
– 30-speed rental bicycle (Giant) with waterproof panniers
– Transfers as described in the itinerary
– Support vehicle with bilingual driver
– Luggage service from hotel to hotel
Additional optional services (guided tour) (on request)
– Single occupancy supplement: 135 euro/tour (equal to 15 euro/night)
– Transfer Tirana Airport – Tirana Town: 1 – 3 people 30 euro / 4 – 7 people 50 euro
– Additional night in Tirana: Hotel Austria: Double room 35 euro per person/night (Surcharge single room 25 euro/night)
– Rental e-bike: 160 euro/trip
Not included in the tour price (guided tour)
– Journey to Albania
– Taxi from Tirana airport to Tirana town: 20 euro (1 – 3 people)
– Drinks with meals
– Entrance fee for sights
– Lunch/Dinner on day of departure
– Tip for driver and tour guide
For more and updated info please visit www.inselhuepfen.com/en/alb
If you would like to book this trip directly, please follow this booking link:
https://www.inselhuepfen.com/en/singletrip/?trip_id=153&trip_second_id=10000
If you have any questions about this trip before booking, please contact us by email at:
info@islandhopping.com