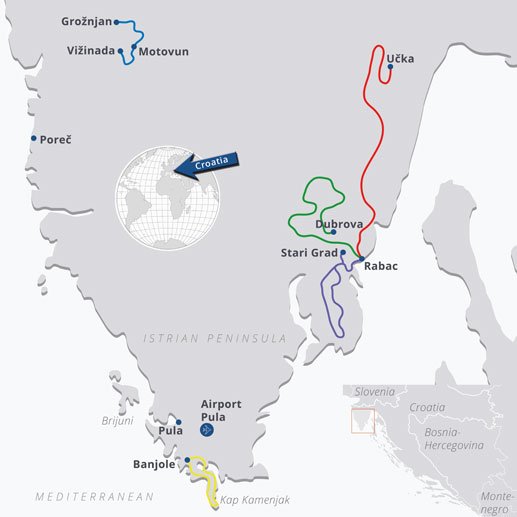 Hotel & MTB Trip Istria from/to Poreč
Explore the Istrian Peninsula by mountain bike

(7 days/6 nights, aprx. 116 mi./185 km, 10,200 ft./3,100 m of elevation by MTB)
How does a sportive, adventurous and relaxing holiday sound? Exploring Poreč and the peninsula of Istria by bike provides you with just that! Discover the local feature or chill by the hotel pool with the sound of the sea in your ears, the warm sun on your skin and a cocktail in your hand.
Experience a hotel & bike week like no other in Rabac and the surrounding area. Enjoy biking in the nature park around the Učka mountain massif at 1,396 meters with breath-taking views and a kilometre-long descent that you will never forget! Discover fun single trails and newly built flow trails along wide forest roads. And, psst! – we will also show you some astounding secret trails!
On your way, you will visit local farms and taste local specialties. After lunch in magical Motovun, the truffle capital of Istria, you can stroll through the old town of Labin and take in the breathtaking view in Skitača. All of this is an absolute must for every off-road fan! 
For more and updated info please visit www.inselhuepfen.com/en/ihm

---
1st Day Poreč (Arrival)
Upon arrival and check-in at the hotel, you can familiarize yourself with the surroundings. You can begin your holiday by the pool or at the bar with a first cocktail, take a dip in the turquoise waters of the Croatian Adriatic or stroll through the streets of Poreč! The first meeting with your guide will take place at 6 pm in the lobby of the hotel.
2nd Day Cape Kamenjak Round Tour (aprx. 19 mi./30 km, 1,500 ft./450 m of elevation)
After breakfast a transfer will take you to the Kap Kamenjak Nature Reserve at the south tip of Istria. This 8km peninsula offers incredible coastal trails and fantastic bays with crystal clear water. The perfect opportunity to jump in and enjoy a refreshing swim! You have the opportunity to enjoy local food in a typical konoba in Premantura before returning to Poreč.
3rd Day Učka – Plomin – Rabac (aprx. 25 mi./40 km; 3,000 ft./900 m of elevation)
After breakfast our transfer will take you from your hotel to the starting point of today's bike tour: Vojak, the highest peak of Učka (1396 m of elevation). The Učka, or Monte Maggiore, as the locals call this mountain massif, is a protected natural park: perfect for those who like to spend their free time outdoors. Your heart will leap for joy! From Vojak, you can enjoy the breath-taking views over the Kvarner Bay and Istria and start the fantastic descent to the foot of the mountain. On our way to Plomin you will bike on beautiful single and nature trails. After lunch, the MTB tour continues to Rabac on newly built flow trails – pure off-road fun. Transfer back to Poreč, where you can enjoy the rest of the day in a relaxed atmosphere at the hotel.
4th Day Round trip around Labin (aprx. 25 mi./40 km, 1,800 ft./550 m of elevation)
Today's tour is assigned a "Culinary" theme. A transfer will take you to the Dubrava Sculpture Park in Labin, the starting point of today's tour. The park houses more than ninety outdoor stone artworks. Here, local artists have created modern sculptures predominantly out of local limestone. You will ride on wide forest roads and some single trails to explore the countryside in and around Labin. The highlight of today's tour: tasting local specialties such as homemade sausages, ham and cheese in small farms. Tasting typical delicacies, meeting the locals, enjoying a scenic biking route – a varied bike day awaits you before our transfer takes you back to Poreč.
5th Day Parenzana from Groznjan to Vižinada via Motovun (aprx. 25 mi./40 km, 2,000 ft./600 m of elevation)
Today's biking trip is a real gem and a journey through time. You will explore one of the most popular bike routes in Istria – the old railway line, Parenzana. A transfer will take you to the starting point in Grožnjan. First, we will show you the picturesque old town of Grožnjan and then cycle along the famous Parenzana through Livade and Motovun to Vižinada. You will discover many secret trails, magical villages and their interesting history, local specialties and contemplate great views. The lunch break will take place in Motovun – the truffle capital is one of the highlights of Istria. Afterwards we ride to Vižinada from where a transfer will take us back to Poreč.
6th Day Labin – Skitača (aprx. 22 mi./35 km, 2,000 ft./600 m of elevation)
A transfer will take you to Labin, where you will enjoy a cultural delicacy and discover the charming old town before starting the tour. You will ride to Skitača, a peninsula that offers a breath-taking view over the Kvarner bay – such an incomparable view that it is said to have moved even saints to tears. See for yourself! Finally, a transfer takes you back to the hotel in Poreč. Finish off the day relaxing at the hotel pool or at the bar with a drink.
7th Day Poreč (Departure)
After this eventful bike week, it is time to say goodbye to Poreč and Croatia. Individual journey home or an extended stay.
Accommodation
Bike friendly, good to very good, middle class, three or four stars hotels.
Catering
The half board starts with the dinner on the day of arrival and ends with the breakfast on the day of departure. The travel price includes six times half board (breakfast and dinner at the hotel) as well as four lunches in local restaurants during the bike tours.
MTB level 2
Easy-to-handle to sporty day trips with partly hilly stages from 30 to 40 km, an average of 600 m in altitude and paths of up to level S2 of the single trail classification. Most of the trails are however easy trails of S1 difficulty. The mountain bike terrain is as varied as the landscapes of Istria: the trips are very different from day to day and therefore offer a lot of variety in biking. Wide forest roads, small back roads, fun single trails, flow trails and narrow forest trails lead you through the terrain. You will be accompanied by a transfer vehicle. Therefore, you can easily master the longest and steepest climbs by car. S2 and S3 routes can easily be avoided by your guide. He can customize the trips according to the driving skills of the group.
Requirement to wear a helmet
Helmets are mandatory on our bike tours. It is advised to bring your own, well fitted, helmet with you as our rental helmet numbers are limited (reservation required). We also recommend wearing arm and leg protectors.
Travel dates 2021

18.04. – 24.04.2021
02.05. – 08.05.2021
16.05. – 22.05.2021
05.09. – 11.09.2021
19.09. – 25.09.2021
10.10. – 16.10.2021
Basic tour price per person
from 990 euro (3* Hotel)
from 1,190 euro (4* Hotel)
Included services
6 nights, either in the 3 * Hotel or 4 * Hotel
6 x half board (breakfast and dinner)
4 x lunch in local pubs
All transfers during the trip
English-speaking tour guide
Entrance to sights and museums
Guided bike tours and sightseeing according to the program
Overview maps of the individual bike stages (GPS tracks on the GPS devices)
Not included in the tour price
Arrival to Poreč
2 x lunch and all drinks
Gratuities for guides and drivers
Additional optional services (on request)
Exclusive airport or train station transfers with or without bike (up to 8 people):
a. Zagreb Airport (ZAG) – Poreč: 450 €
b. Pula Airport (PUY) – Poreč: 80 €
c. Rijeka Airport (RJK) on the island of Krk – Poreč: 200 €
Bike rental:
– Full suspension MTB (Fully): 180 € / week;
– Full suspension E-MTB (E-Fully): 240 € / week
– MTB (Hardtail): 100 € / week
Insurance against theft and damage to the MTB (Fully): 20 €/week and Hardtail: 10 €/week (not insured: grossly negligent damage)
For more and updated info please visit www.inselhuepfen.com/en/ihm