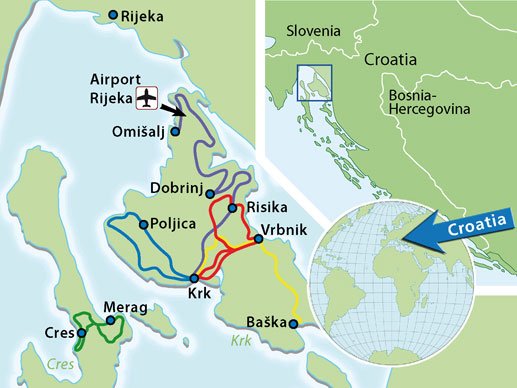 Hotel & MTB Trip Krk Island – Explore the 'Golden Island'
(7 days/6 nights, aprx. 125 mi./200 km, 12,500 ft./3,800 m of elevation per MTB)
Allow yourself to be enchanted by one of the most diverse mountain bike regions of the Mediterranean! Ranging from fine forest trails over stony lunar landscapes to lonely coastal trails, you will enjoy the variety of trails that are available to you on island Krk.
Be it through the vineyards, plentiful olive groves or between ancient dry-stone walls, you will enjoy great trails, marvel at fantastic views, and discover secluded bays – this all goes to creating an unforgettable tour experience.
This adventurous MTB tour will reveal to you cultural highlights such as the medieval basilica in Omišalj, local natural phenomenas such as the remarkable stalactite cave of Rudine or the healing mud of Soline.
You will experience and be astounded by a symphony of pictures, culinary delights and wonderful activities. Welcome to the Golden Island!
For more and updated info please visit: www.inselhuepfen.com/en/khm

---
1st Day Krk town, Hotel (Arrival)
Upon arrival and check-in at the hotel, you can familiarize yourself with the surroundings. Begin your holiday with a stroll through the streets of Krk enjoying a delicious ice cream or take a bath in the beautiful sea. The first introduction with your guide will take place at 6 pm in the lobby of the hotel. If you have any questions you can always contact the in-house bike center. We are here for you!
2nd Day Bike tour Krk – Glavotok (aprx. 25 mi./40 km, 2,300 ft./700 m of elevation)
The first MTB tour starts after breakfast. You will explore Krk town and the west part of the island by bike. The first stage of this week will take you to the small fishing village of Glavotok, where you can take a swim break. Pine forests, wide nature trails and a few moderate climbs characterize this day. To prepare for the coming days, you will also ride on a few short but varied trails. Afterwards you will bike back to Krk town, where you have enough time to stroll, bathe or relax in the hotel.
3rd Day Bike tour Krk – Vrbnik – Krk (aprx. 27 mi./43 km, 2,800 ft./850 m of elevation)
The vineyards around the town of Vrbnik – once a legendary pirate's nest and now home to the famous Žlahtina wine – along with countless olive trees are one of the iconic features of Krk.The tour will take you through olive groves, where you can bike between and on the dry-stone walls. Fantastic views, great, technically demanding trails and secluded beaches make this tour to an unforgettable experience. After a long break, during which you will taste some local specialities, you will ride back to the hotel to end the day there.
4th Day Bike tour Cres island (aprx. 21 mi./33 km, 3,000 ft./900 m of elevation)
Today you will "hop" to the island of Cres to discover the beauties of this almost forgotten island. A transfer takes you to the island of Cres. You start your tour from the top of the hill. From here you can enjoy a breathtaking view of the bay and the old town of Cres. Varied flow trails lead through the olive groves of the town of Cres to the historic town centre. You will get to know the colourful history of this island and the countless natural wonders it offers. Of course, you will taste some specialties of the island before a transfer takes you back to the small ferry port on the other side of the island. You will get to your hotel in the late afternoon.
5th Day Bike tour Krk – Baška (aprx. 22 mi./35 km, 2,600 ft./800 m of elevation)
One of the highlights of the island of Krk is definitely the small town of Baška on the south-eastern side of the island. Lying remotely in a large idyllic bay, this town is fascinating. Even the way there is a unique experience; the landscape is characterized by one of the strongest winds in the world. The notorious bora of the Velebit Mountains, reaching up to 250 km/h, leaves a true "moonscape" in its wake on this part of the island. It's an incredible feeling to bike through this rocky desert! Partly blocked trails and steeper climbs demand good riding skills. The view of Baška with its two kilometer long pebble beach and the great descent down to it are the climax of today's tour. Once in Baška, you can enjoy your lunch, bathe in the sea or simply relax in this tranquil place. A transfer will bring you back to the hotel in Krk.
6th Day Bike tour Malinska – Dobrinj – Klimno – Omišalj (aprx. 22 mi./35 km, 1,800 ft./550 m of elevation)
A transfer takes you close to Malinska. From here you start your today's adventure. The next kilometres lead along a beautiful forest path. After a short ascent on an asphalted road you reach Dobrinj, a beautiful old town on a hill, which offers a wonderful view of the north of the island. After a coffee break there is time to have fun: a single trail leads from Dobrinj to the sea. Afterwards you bike to the famous bay of Soline, where you can take a short bath – including beneficial mud. Continue along the bay of Čižići before you follow a stony trail through another lunar landscape to a fascinating stalactite cave. The visit is worth it! Shortly afterwards you will reach Omišalj, where you can refresh yourself in the blue Adriatic Sea and enjoy lunch. In the late afternoon our transfer will take you back to Krk town. Celebrate the eventful week by enjoying an incredible sunset casting its colours across the Adriatic.
7th Day Krk town (Departure)
Individual departure after breakfast. You can also extend your holiday in Croatia if you wish to.
Accommodation
Bike friendly good middle class three stars hotel.
Accommodation: 3* Hotel Koralj
The ***Hotel Valamar Koralj is situated above a bay of the Adriatic sea on the island of Krk, only 10 minutes walk along a seaside promenade from the Krk town. It features an outdoor swimming pool including a whirlpool and a spa centre. Moreover there is a freshwater pool and a children's pool. The hotel's private beach is endowed with changing rooms and showers. Pedal boats and canoes can also be hired.
All rooms in Hotel Koralj are equipped with a TV, air conditioning and a minibar. The private bathrooms are fitted with showers and hairdryers. The lobby provides guests free Wifi Internet access.
Buffet meals are served in the restaurant with a show-kitchen or on the sea view terrace. The cosy Koralj Inn will offers grilled meals as an alternative, while the pool-bar serves wine and cocktails.
Catering
The travel price includes six times half board (breakfast and dinner at the hotel) as well as three lunches in a local restaurant, picnic or wine-tasting. The half board starts with the dinner on the day of arrival and ends with the breakfast on the day of departure.
MTB level 2
Easy to handle to sporty day trips with partly hilly stages from 30 to 45 km, an average of 800 m in altitude and paths of up to level S2 of the single trail classification. Most of the trails are however easy trails of S1 difficulty. The mountain bike terrain is as varied as the landscapes around Krk: the trips are very different from day to day and therefore offer a lot of variety in biking. Wide forest roads, small back roads, fun single trails, flow trails and narrow forest trails lead you through the terrain. You will be accompanied by a transfer vehicle. Therefore, you can easily master the longest and steepest climbs by car. S2 and S3 routes can easily be avoided by your guide. He can customize the trips according to the driving skills of the group.
Requirement to wear a helmet
Helmets are mandatory on our bike tours. It is advised to bring your own, well fitted, helmet with you as our rental helmet numbers are limited (reservation required). We also recommend wearing arm and leg protectors.
Travel Dates
12.09. – 18.09.2020
26.09. – 02.10.2020
10.10. – 16.10.2020
24.10. – 30.10.2020
01.05. – 07.05.2021
15.05. – 21.05.2021
04.09. – 10.09.2021
16.10. – 22.10.2021
Basic tour price per person
from 990 Euro (3* Hotel Koralj)
Included services
6 nights in a 3 stars hotel
6 x half board (breakfast and dinner)
3 x lunch/picnic
English-speaking tour guide
All transfers during the tour
All ferry tickets
Entrance to sights and museums
Guided bike tours and sightseeing according to the program
Overview maps of the individual bike stages (GPS tracks on the GPS devices)
Not included in the tour price
Arrival to Krk
3 x lunch and all drinks
Gratuities for guides and service staff
Additional optional services
Airport or train station transfers with or without bike:
Exclusive transfers to Krk (up to max. 8 people):
a. Zagreb Airport (ZAG) – Krk: 380 €
b. Pula Airport (PUY) – Krk: 200 €
c. Rijeka Airport (RJK) – Krk: 80 €
Bike rental:
– Full suspension MTB (Fully): 180 € / week;
– Full suspension E-MTB (E-Fully): 240 € / week
– MTB (Hardtail): 100 € / week
Insurance against theft and damage to the MTB (Fully): 20 €/week and Hardtail: 10 €/week (not insured: grossly negligent Damage)
For more and updated info please visit: www.inselhuepfen.com/en/khm
If you would like to book this trip directly, please follow this booking link:
Direct booking of our Hotel & MTB trip Krk Island
If you have any questions about this trip before booking, please contact us by email at:
info@islandhopping.com