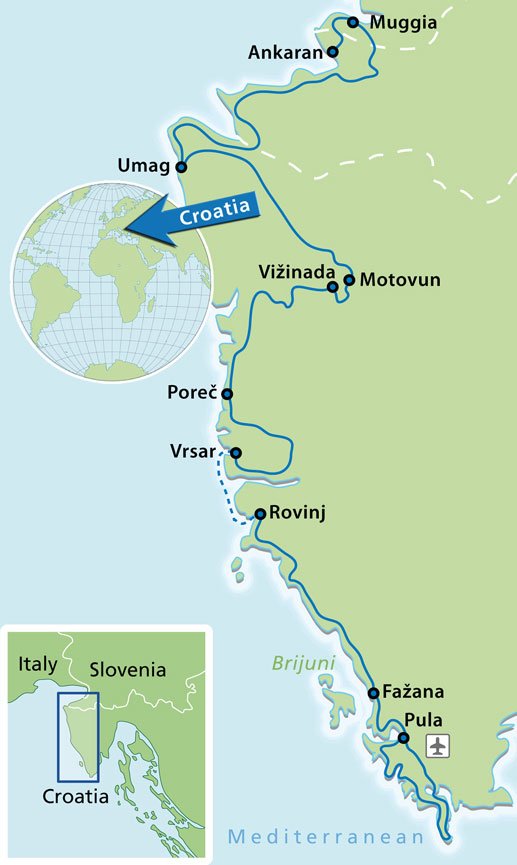 Hotel & MTB Trip Parenzana – 3 countries in 1 week
(8 days/7 nights, aprx. 188 mi./300 km, 10,000 ft./3,000 m of elevation per MTB)

Join us on a very special mountain bike vacation along the historical narrow-gauge Parenzana railway which, between 1902 and 1935, connected a total of 33 sites between Trieste and Poreč.
Rest assured that every single kilometer of this wonderful bike tour provides you not only with unforgettable cycling fun, but also recalls countless stories from long ago: rustic villages, cultural highlights and UNESCO world heritage towns will all be shown to you on this exciting journey.
Unimaginable natural landscapes and outlooks over the Istrian coast will accompany you throughout the entirety of your journey. In 8 days you cycle through Italy, Slovenia and Croatia. Varied single trails in close proximity to the sea as well as along narrow paths through lush-green forests heading inland are waiting for you to cycle through them. A vast network of coastal trails and plenty of photo opportunities offer a truly varied program – there is no shortage of secluded bays, bars and restaurants to refuel and refresh you along the way.
A selection of 3-4 star hotels insure that you start each day fresh and rested, while our transport driver brings your luggage from hotel to hotel. Come with us on a journey through time in south-east Europe!
For more and updated info please visit: www.inselhuepfen.com/en/phm