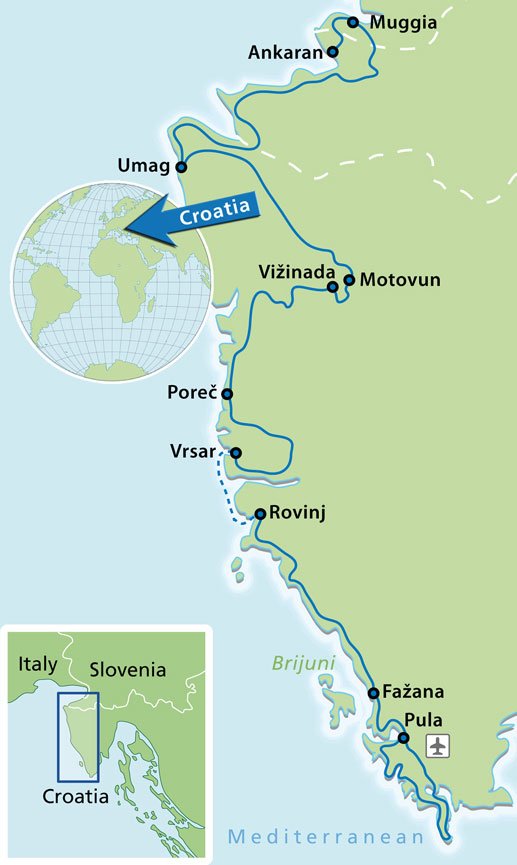 Hotel & MTB Trip Parenzana – 3 countries in 1 week
(8 days/7 nights, aprx. 188 mi./300 km, 10,000 ft./3,000 m of elevation per MTB)

Join us on a very special mountain bike vacation along the historical narrow-gauge Parenzana railway which, between 1902 and 1935, connected a total of 33 sites between Trieste and Poreč.
Rest assured that every single kilometer of this wonderful bike tour provides you not only with unforgettable cycling fun, but also recalls countless stories from long ago: rustic villages, cultural highlights and UNESCO world heritage towns will all be shown to you on this exciting journey.
Unimaginable natural landscapes and outlooks over the Istrian coast will accompany you throughout the entirety of your journey. In 8 days you cycle through Italy, Slovenia and Croatia. Varied single trails in close proximity to the sea as well as along narrow paths through lush-green forests heading inland are waiting for you to cycle through them. A vast network of coastal trails and plenty of photo opportunities offer a truly varied program – there is no shortage of secluded bays, bars and restaurants to refuel and refresh you along the way.
A selection of 3-4 star hotels insure that you start each day fresh and rested, while our transport driver brings your luggage from hotel to hotel. Come with us on a journey through time in south-east Europe!
For more and updated info please visit: www.inselhuepfen.com/en/phm

1st Day Ankaran/Slovenia (Arrival)
After arrival and checking-in at the hotel you can familiarize yourself with the surroundings. You can spend the first hours of your holiday strolling through the alleys, tasting a delicious ice cream or bathing in the sea.
2nd Day Ankaran/Slovenia – Muggia/Italy – Slovenia – Umag/Croatia (aprx. 42.5 mi./68 km, 2,100 ft./650 m of elevation)
At 9.30 in the morning, before your first bike tour, your guide for the week will meet you in the lobby of your hotel. You find your bike, adjusted according to your measurements and needs. After a short introduction you get started on your first tour. The bike trail going through Italy and Slovenia is asphalt, so that today you have enough time to get used to the bike. After a few kilometers you cross the border between Slovenia and Italy for the first time. The tour takes you through the most beautiful coastal cities in Slovenia. A refreshing swim stop, a stop for lunch as well as a visit to the salt works, dating back to the Roman times, characterize your day. After crossing the border to Croatia the real MTB adventure begins: dirt roads, long climbs and panoramic viewpoints await you before the first day comes to an end in a great hotel in Umag.
3rd Day Umag – Motovun (aprx. 33 mi./53 km, 2,600 – 3,300 ft./800 – 1,000 m of elevation)
Today you discover the Istrian hinterland and pass through green forests as well as small villages up to the highest point of the tour today: the magical artists' village Grožnjan, located at an altitude of 270 m above sea level. The village has gained popularity in recent years, not only among artists, but especially as a Hollywood backdrop. Fabulous views over dense forests, deep valleys and the Istrian coastline with its turquoise sea offer breathtaking artistic impressions. After lunch you have the opportunity to try a couple of single trails leading down to the Motovun woods. This is an Eldorado for all truffle lovers. A short climb separates you from today's destination: Motovun. This medieval city is a must-see cultural and culinary highlight of Istria. Spending the night here is a unique experience.
4th Day Motovun – Poreč (aprx. 29 mi./46 km, 1,250 ft./380 m of elevation)
Today you can relax on the bike on a less demanding tour. After breakfast start out towards Poreč – Parenzo. A few climbs and the way back to the coast characterize today's tour. From Motovun you cycle 12 km along the Parenzana rail trail, passing through the forest with a view over Mirna's valley. Once you arrive in Vižinada, the tour continues through famous red wine country until Poreč – one of the most beautiful old cities in Croatia. After a refreshing swim in the sea we recommend taking a stroll through the village, drifting through the maze of alleyways, taking your time to enjoy a good cocktail or a delicious ice-cream on the promenade.
5th Day Poreč – Vrsar – Rovinj (aprx. 22 mi./35 km, 1,300 ft./400 m of elevation)
After breakfast a guided tour through the beautiful old town of Poreč awaits you with a visit to the Euphrasius basilica dating back to the 6th century, now under UNESCO world heritage protection. Afterwards you start the bike tour: in the first few kilometers you follow the popular promenade in Poreč before continuing along narrow forest trails inland. Today's destination is the small village of Kloštar, where you have the opportunity to taste Istrian specialties endemic to the area. After lunch you pass through the protected forest of Konti along narrow paths and reach Vrsar. Once you have arrived here, your journey continues on the water: a boat takes you to Rovinj. Lean back and enjoy the beautiful cruise. Ahoy!
6th Day Rovinj – Pula (aprx. 31 mi./50 km, 1,300 ft./400 m of elevation)
The day begins with a guided tour through the beautiful city of Rovinj. Afterwards you continue by bike towards Pula. Follow the coast past tiny bays as well as the bird reserve Palud. Arriving in Fažana you'll be just in time for a well-deserved lunch break. Besides the Croatian cuisine, you can also enjoy a unique view over the Brijuni national park. The tour continues on through an abandoned military base, which nowadays inspires every mountain biker with its great single trails near the coast. The view of Pula with its breathtaking amphitheater crowns the day's experience! On arrival at the port you visit the city per bike and your guide will show you all the important sights of this ancient roman city.
7th Day Pula – Cape Kamenjak – Pula (aprx. 28 mi./45 km, 2,000 ft./600 m of elevation)
The best is yet to come: today you start from the hotel on an unforgettable tour. You cycle along single trails by the sea, over the hills of Pula, until after a few kilometers you reach at the protected area of Cape Kamenjak. This 8 km long peninsula offers an incredible number of coastal trails and fantastic bays with crystal clear water. A refreshing swim is really a must here! On the top of the peninsula you stop at the popular Safari bar, where you can enjoy a lunch break before heading back to Pula. Enjoy your last day in the hotel by relaxing at the hotel swimming pool or enjoying a drink!
8th Day Pula/Croatia (Departure)
After an unforgettable bike week today is time to say goodbye to Istria. The return journey is organized individually by each participant. Alternatively you can also decide to extend your stay in the same or a similar hotel.
Accommodation
Bike-friendly good middle class hotels preferably in the *** and **** level (if available, depending on the season). The hotel list will be sent to you in good time before the start of your journey.
Catering
The half-board starts with the dinner on the arrival day and ends with the breakfast on departure day. Included in the price is 7x half-board which can be enjoyed as a breakfast and lunch or breakfast and dinner combination in each hotel depending on the day.
MTB level 2
From easy to manage to sporty day tours with mountainous stages going from 35 to 63 km, with an average from 400 to 1,000 m of elevation and routes of the single trail scale up to S2. The mountain bike-terrain is as varied as the landscapes of Istria: the tours vary widely day-to-day and provide much diversity for the bikers. Dirt roads, longer climbs, narrow forest paths, single trails near the coast, small side streets and great promenades lead you through the landscapes. This is designed in the first place as a guided group tour. After prior consultation with our tour guides and a selection of an appropriate route there are in principle no obstacles for biking individually.
Requirement to wear a helmet
Helmets are mandatory on our bike tours. It is advised to bring your own, well fitted, helmet with you as our rental helmet numbers are limited (reservation required). We also recommend wearing arm and leg protectors.
Travel Dates
19.09. – 26.09.2020
03.10. – 10.10.2020
24.04. – 01.05.2021
08.05. – 15.05.2021
11.09. – 18.09.2021
25.09. – 02.10.2021
02.10. – 09.10.2021
Basic tour price per person
from 1,190 euro (in a double room)
Included services
7 nights in 3* and 4* bike-friendly hotel (due to availability)
7 x half-board (breakfast and lunch or dinner depending on the day, according to the program and to the tour it can be during the bike tour or in hotel)
Navigation Vrsar – Rovinj
All transfers during the tour
English speaking local tour guide
Guided bike tours and city tours as described in the program
General maps of every bike route
Services not included in the basic tour price
Arrival to Ankaran (Slovenia)
Departure from Pula (Croatia)
All drinks
Gratuities for tour guide and service staff
Additional optional services
Exclusive transfer from airport/bus/train station


Bike for rent:
a. Full-suspension MTB (Fully): 180 euro/week
b. Full-suspension E-MTB (E-Fully): 240 euro/week
c. MTB (hardtail): 100 euro/week


Insurance against theft and damage of MTB: Fully 20 euro/week, Hardtail 10 euro/week (not covered: damage caused by gross negligence)


Additional night in Pula/Istria after the trip – on request


Surcharge for single room: 300 euro
For more and updated info please visit: www.inselhuepfen.com/en/phm
If you would like to book this trip directly, please follow this booking link:
Direct booking of the Parenzana Hotel & MTB trip
If you have any questions about this trip before booking, please contact us by email at:
info@islandhopping.com