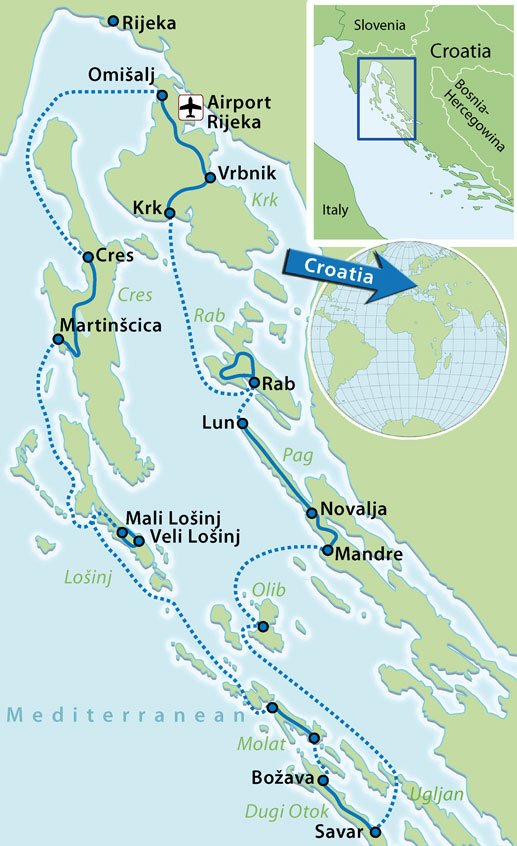 MTB & Boat Kvarner Bay Standard
(8 Days/7 Nights, up to 143 mi/230 km, 11,155 ft/3,400 m of elevation by MTB, level 2, S0-S2)
Spend a week on a charming motor sailer and travel to the islands of Cres, Molat, Dugi Otok, Pag, Rab and Krk.
Your guide will accompany you to the hidden corners of the region. The hilly to mountainous landscape with partly challenging slopes requires good physical condition.
The islands vary greatly and therefore offer large variety while biking: wide natural paths, small side roads, Roman roads, seafront promenades and narrow paths which will lead you across the islands.
This MTB tour is aimed at off-road fans who enjoy a tour outdoors in nature in varying terrain but is not specifically trail orientated. The dedicated MTB trail percentage is limited to what the islands have to offer. This tour takes place parallel to our trekking bike cruise in the Kvarner Bay on the same boat. One tour guide takes care of the mountain bikers whilst the other one accompanies our trekking riders. If you have a partner or a friend, who prefers cycling to biking, don't hesitate to bring him/her with you. So you can have a common vacation and indulge in your favorite hobbies during the daytime.
If you prefer technically challenging trails or prefer to bike more daily kilometers, our Kvarner Bay MTB Special tour with varying difficulty levels for mountain bikers, would be the right choice for you.
For more and updated info please visit www.inselhuepfen.com/en/kvm
---
1st Day (Sun) Omišalj (Embarkation) – Cres
Individual arrival in Omišalj, a picturesque fishing harbour on the island of Krk. Embarkation takes place between 2 and 2:30 pm. Our 4 hour crossing to Cres starts at 3 pm. Meanwhile we can sit back, relax and enjoy the beautiful views of Rijeka and the looming Ucka Mountain. We spend the evening in the Venetian influenced town of Cres.
2nd Day (Mon) Islands of Cres and Lošinj (aprx. 20 mi./32 km, aprx. 1,800 ft./550 m of elevation)
After breakkfast our tour starts from the city of Cres and takes us to the small port of  Martinšćica. After a efficient climb on asphalt roads, the off-road joy ride can begin with incredible views over the bay of Valun. After a nice break in the village of Podol, we will continue on natural paths and goats tracks with at times flowy sections, past the Vraner Lake to our boat in Martinšćica. Enjoy the cruise from here to Mali Lošinj. The port with its colourful facades and numerous cafes offers its visitors a welcoming atmosphere for a relaxed evening.
3rd Day (Tue) Islands of Lošinj and Molat (aprx. 15 + 9 mi./aprx. 24 + 15 km, aprx. 1,150 + 650 ft./350 + 200 m of elevation)
In the morning a short tour leads us across the island of Lošinj, which is literally made for mountain biking. We bike through pine forests past palm trees and agaves along a promenade to mirrored city of Veli Lošinj, the former capital of the island. It invites us for a break with ice cream parlors and cafés. Back on the ship one of the most beautiful crossovers awaits us. Arriving on the flower island of Molat we starts a second bike tour. Although there are no prepaired trails on this island, Molat impresses with its rich vegetation, neat gardens and great views of the neighboring isles.
4th Day (Wed) Islands of Dugi Otok and Olib (aprx. 21 mi./37 km, aprx. 1,970 ft./600 m of elevation)
During breakfast the ship brings us to the island Dugi Otok, where we explore mostly on asphalt roads the northern, elongated part of the narrow island by bike. The scenic road opens to magnificent views of bays, islands and the mainland frequently. Many spots offer a view of the sea on both sides of the island. Our ship can be seen navigating to the next harbor where it awaits our arrival in Savar or Brbinj. On arrival we can cool off with a refreshing dip in the sea. We continue by boat to the small island of Olib for the night.
5th Day (Thu) Islands of Pag and Rab (aprx. 21 mi./34 km, aprx. 1,475 ft./450 m of elevation)
After a morning crossing we reach the island of Pag. Today's bike tour takes us mainly on asphalt roads past stone walls and a sheep's pastures to Novalja. After a short coffee break we continue to the northernmost part of the island Pag. The rugged, karstic island, which is covered with herbs, offers the ideal basis for the famous spicy cheese of Pag. Also well-known are the olives from the ancient olive groves of Lun, through which we descend just before the end of the tour. The short crossover to Rab offers one of the most marvelous view of the medieval city walls of the city of Rab. After landing we can explore the numerous alleys on a leisurely walk through the lovely old town, which emerges out of a wedge-shaped peninsula.
6th Day (Fri) Islands of Rab and Krk (aprx. 22 mi./35 km, aprx. 1,800 ft./550 m of elevation)
Rab is small island, but excellent for mountain biking. It offers plenty of opportunities and differing bike terrain. Today's tour takes us along narrow promenades and Roman roads, along flowy trail sections in the Dundo Forrest, with constant glimpses of the clear blue sea winding through the Dundo-forest and offering great views of the sea and the town of Rab. After the bike tour the ship takes us on a two and a half hour crossing to the historic island capital of Krk, which invites for a stroll in the evening.
7th Day (Sat) Krk Island (aprx. 31 mi./50 km, aprx. 2,300 ft./700 m of elevation)
Our last bike tour leads us across the so called "golden island" of Krk. The famous Zlahtin grape vines thrive here, grown mainly around the town of Vrbnik. We bike past expansive vineyards, olive groves and long stone walls. After a coffee break we follow the wide coastal paths back to the muddy bay, Soline. The final stretch takes us along narrow paths and through peaceful villages to Omišalj, where we can enjoy the end of our trip with a cozy evening on board.
8th Day (Sun) Omišalj (Disembarkation)
The guests are asked to check out after breakfast, i. e. around 9 am. Individual trip home or extend your holidays in Croatia.

---
Comfort Ship Linda (shower/toilet in each cabin)

At 31 x 6 m the Linda is a sleek wooden motor sailor built in 1955 and fully refurbished in 2006. She hosts 14 friendly guest cabins each with own shower and WC. The spacious and tastefully furnished salon with its wooden tables and cushioned benches provides a welcoming atmosphere. The large rooftop sundeck is laid out with padded sunning mats offering you a great space to switch off and relax in.
The captain and his united crew are eager to welcome you on board for a recuperative vacation. The crew, who have been working together for many years, takes care of their guests touchingly and is looking forward to preparing an unforgettable holiday for you.
For more detailed information about the Linda please visit: https://www.inselhuepfen.com/en/linda/
Basic tour price per person (in a twin cabin below deck)
– from 990 euro (comfort boat Linda)
Included services
• 8-day-trip on a motor yacht with crew
• 7 nights in a twin cabin below deck with shower/toilet
• 4 x full board and 3 x half board
• guided bike rides and sightseeing as described in itinerary
• Overview-maps for the daily tours on board
• Bed linen and towels
• English-speaking tour guide
Additional optional services (on request)
• Shared twin cabin
• Surcharge for a cabin above deck: 100 euro/person
• Surcharge for a double cabin for single use below deck: 400 euro (limited, on request)
• Surcharge for a double cabin for single use above deck: 600 euro (limited, on request)
• Rental bike: Full suspension MTB (fully): 180 euro/week; full suspension e-MTB (E-fully): 240 euro/week (limited, on request)
• Insurance against theft and damage of the rental bike: fully 20 euro/week (not insured: grossly negligent damages)
• A safe parking space: motorcycle: 30 euro/week; car up to 6 m in length: 50 euro/week, vehicle longer than 6 m: 100 euro/week (on request, to be paid on-site to the tourguide)
• In case of train arrival: Collecting transfer from Rijeka train station to Omišalj: 20 euro person/way (reservation requested) Please note, that it is not possible to take your own bike in trains.
• Transfer from/to Rijeka airport (on embarkation and disembarkation day day): 15 euro person/way
• Collective transfer from/to Zagreb on day of embarkation/disembarkation only (11:30 am from Zagreb Center or 12:15 pm from Zagreb Airport / return transfer from Omišalj to Zagreb Airport starts at 8 am: 30 euro person/way and 30 euro bike/way (reservation required two weeks in advance, booking incl. complete transmission of flight details)
• Customized transfer (on request)
• 2-day extension module Zagreb (only as PRE-Islandhopping tour bookable) incl. transfer airport – hotel // hotel – boat in Omišalj; 1 night in a 3 or 4 star hotel; guided sightseeing tour in Zagreb (entry fees for sights not included), dinner in a local restaurant; price per person: 3 star hotel in a double room: 310 euro/single room: 340 euro; 4 star hotel in a double room: 360 euro/single room: 420 euro (People driving independently, without the need of a transfer, receive a discount of 60 € off all prices mentioned)
• Additional night incl. breakfast in Omišalj (prices on request)
Not included in the tour price
• Journey to Omisalj / Krk Island
• Water flat rate, Visitor's tax and local charges 50 euro/adult or 25 euro for children up to age 16 (to be paid to the captain)
• Drinks on board (tally sheet; to be paid to the captain)
• Meals and drinks ashore
• Please bring a beach towel, if needed
• Tips for tour guides and crew
For more and updated info please visit www.inselhuepfen.com/en/kvm
If you would like to book this trip directly, please follow this booking link:
Direct booking of the MTB & Boat trip Kvarner Bay
If you have any questions about this trip before booking, please contact us by email at:
info@islandhopping.com