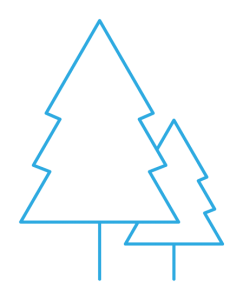 Biking through nature's delight
Escaping the noise and traffic of the city. Finding peace and relaxation in nature. Listening to the sound of gargling brooks and the chirping of the birds, and enjoying the warm rays of the sun on your skin. Does that sound like what you are looking for? Then our cycling holidays in the midst of Croatia's beauty are just the thing for you.
Breathtaking nature against a historical backdrop – this is Croatia. Whether by trekking bike or E-bike, explore the incomparable coastline with its lonely bays and dreamy beaches on our one-week bike tours. Romantic small towns nestled in green hills, vineyards, rivers and lakes await you. And nature won't always be quiet: let the thundering waterfalls in the Krka Fjord amaze you.
On our bike & boat trips you will experience the highlights of Dalmatia: a motor yacht serves as your floating home and your bike as a mobile explorer. Cycle through the fragrant lavender fields and small villages on the island of Hvar. Taste the golden white wine "Marastina" grown on the island Korčula. Follow in Homer's footsteps to the honey island of Mljet and cycle through one of the most densely wooded islands in the Mediterranean.
Visit the national parks of Dalmatia by trekking bike, E-bike or mountain bike. The Kornati National Park south of the island Dugi Otok is a paradise on earth. The archipelago of 89 small islands lies like pearls in the deep blue sea with a fascinating species-rich fauna and flora, especially below the waters surface.
There is also something for hotel & bike lovers: cross the varied hinterland of northern Croatia with its beautiful national parks. The Plitvice Lakes and their spectacular waterfalls, known from the Karl May films, are only one of many highlights.
Go on a voyage of discovery to the natural treasures of this beautiful country. Croatia by bike: a refuge for every nature lover!