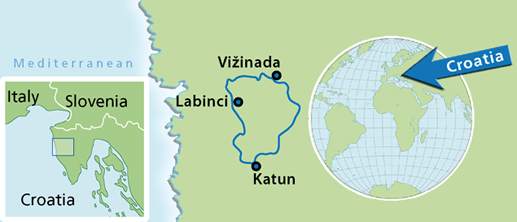 Poreč MTB day tour
(approx. 50 km / 800 m of elevation / MTB level 2)

Interested in a mountain biking adventure? Then come with us on our guided Poreč MTB day tour and discover hidden trails around Poreč! The day will begin with a transfer from your hotel to the starting point of our tour – the village of Labinci. Here we will hop on our bikes and off we go!
During this tour we will have the opportunity to enjoy some tranquil countryside roads through vineyards of Teran and Malvasia.
This part of Istria is typical farmer area which every section of land will be sure to remind you. While riding through forests and olive groves, you will be able to smell and absorb the fresh, local aromas.
We will also be biking on a section of the legendary Parenzana, an old railway track, before reaching Vižinada, where we will stop, relax and enjoy a coffee. There we will also have the opportunity to see a life-size model of a wagon from the Parenzana train. Later on, we continue our ride on single forest trails and soon arrive on a cliff overlooking the Mirna river valley. As we return to Labinci, we will pass through the small village of Kaštelir where we can admire some old stone buildings; drystone walls made by stacking stones without any binding material.
This tour is offered every Tuesday from April to October and takes place on request with a minimum of 3 participants. Duration of the tour is approx. 6 hours.
We offer a transfer from your hotel in Poreč to our starting point in Labinci, where we will get on our bikes. Expected time to start the bike tour is around 9:30 am.
The ride begins on a small, quiet, 10km trail through vineyards passing by typical Istrian villages. When we reach the village of Jehnići a soft ascent through olive tree fields and forest begins. For the next 15 km we will climb to the highest point of our ride (360m), interrupted occasionally by short, downhill sections. From the highest point we will follow a paved road to Močitada village and there we will head back onto off-road terrain. Here an amazing downhill track awaits us before a further, short uphill section which will take us to Vižinada where we will be able to stretch our legs, relax and have a coffee break.
After our break, a tranquil and green part of the route awaits us. Nice downhill trails will take us to a cliff overlooking the Mirna river valley after which we will continue, partly on gravel and partly on paved roads, through the village of Kaštelir. We will then arrive back at Labinci where we started our tour. From here there will be a transfer back to your hotels. The expected time of return at your hotel is around 15:00.
The total biking distance is approximately 50 km with 800 meters of elevation.
Transfer from Poreč: 
08:30 Hotel Valamar Diamant
08:40 Poreč bus station
08:50 Hotel Valamar Zagreb
09:15 Hotel Valamar Tamaris
Good fitness and safe riding skills are required for this day tour.
This tour is offered every Tuesday from April to October. Duration of the tour is approx. 6 hours.