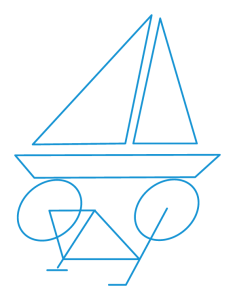 "The sea, once it casts its spell, holds one in its net of wonder forever" – Jacques Cousteau
Cruising through the sea on a motorized yacht, anchoring in secluded bays and diving into the deep blue sea. Lying in a romantic harbour in the evening and losing yourself in the alleys of a tranquil coastal town on the Adriatic. Travel from island to island during the day aboard your floating hotel. Competent guides will introduce you to Croatia from a very personal standpoint. On guided bike tours by trekking bike, mountain bike or E-bike you will get to know the country and its people, nature and culture up close. Views that take your breath away are included every day!
Are you already fascinated by the beauty of the Croatian mainland? Then it's time to explore the islands – one more beautiful than the other; each with its own story, its own charm. Your one-week active holiday begins on board your vessel. Ship ahoy! – and on to your cycling adventure.
Islandhopping in Croatia by boat and bike gives you the chance to experience a whole new holiday concept by bringing your bike on board a comfortable motor yacht and navigating your way from island to island. 
Enjoy the peace and seclusion of the islands! On bike tours you pass olive groves and cycle on quiet side roads lined with cypresses and fig trees. In between tours you can bath in crystal clear water at dreamlike sandy beaches or take a dip directly from your ship. You could hardly be closer to the sea – can you already smell the salty sea air?
An all-round carefree holiday that lets you travel in a very special way. Culinary delicacies of the Croatian cuisine should not be missed. Whether on board the ship with your own Smutje or in the Konobas ashore: try the national dish Ćevapčići or freshly grilled fish, delicious mussels and calamari. And at the end of every day, full of captivating stories and unforgettable impressions, you can enjoy a good glass of wine and the sunset with its impressive variety of red tones.
Whether discoverer, nature lover, relaxation-seeker or sports enthusiast: A cycling tour through Croatia by ship and bike is the answer!